Sold in quantities of 100 clips.

Major credit cards are accpeted.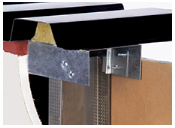 Posi Klip on a Non-Rated Wall.
Posi Klip on a Rated Wall.
Posi Klips are attached to the inside flange(s) of the ceiling track with two #6 tek screws and engage the short flange of the metal stud.
POSI KLIPS ARE AVAILABLE IN 3 SIZES:
POSI KLIP - ORDERING AND SHIPPING INFORMATION
Use of Posi Klips is U.L. required ONLY when deflection is 2-1/2" or more.
No freight charge on clip orders sent by FedEx Ground inside the continental United States.

FedEx Express Saver, 2-Day and Overnight shipping available. Quoted on an order by order basis.

All other freight optins quoted on an order by order basis.

No returns on shipped orders.

Clip and freight prices subject to change.
Posi Klips can be used with any stud or track size or gauge.

Posi Klips can handle different deflections by varying track depth.

Posi Klips reinforce the stud to track connection while allowing deflection.
Posi Klips allow for a range of deflection for rated and non-rated walls.
XSR

- Extra Long Stud Return

LSR

- Long Stud Return

SSR

- Short Stud Return